C&R Portfolio & Case Studies
There's a reason our customers won't go anywhere else; at C&R, we are all about quality, and the proof is in the thousands of successful projects we've completed over the last 25 years.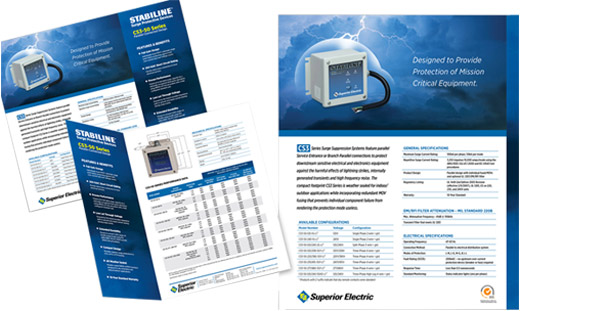 Superior Electric
TWO in ONE
C&R was asked to come up with a design that typically is presented in two separate pieces.  In order to streamline design, copy, etc. our team found the right balance between Brochure and Technical Data Sheet.  This equals savings on design updates and printing requirements.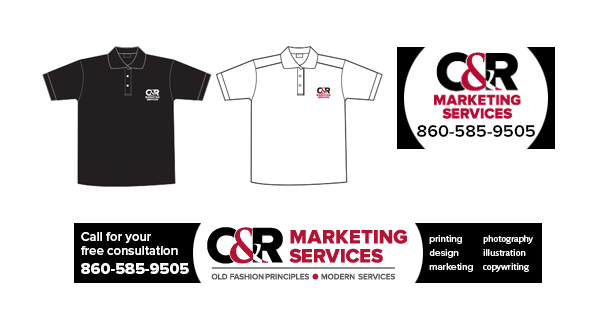 C&R Marketing Services
Rebranding and LOGO DESIGN
C&R Marketing Services has over 25 years of service to the community of Bristol, CT. Their integrity and impeccable service has earned them the reputation as a successful and trustworthy business. A redesign of their branding took into account the move from providing exclusively printing services to providing full marketing services. They wanted to update, yet keep the trusted name and look. From web banners to promotional items and signage, the new logo and colors reflect the expanded and updated capabilites.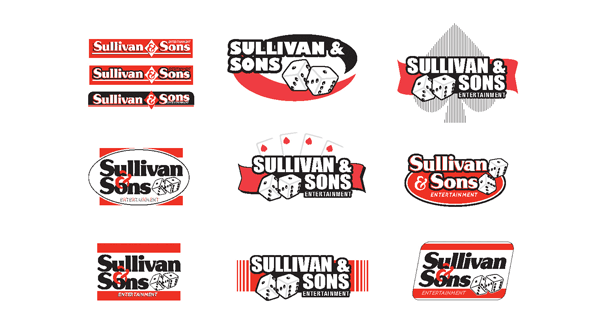 Sullivan & Sons
LOGO DESIGN
Sullivan & Sons requested a new logo and gave full creative liberty to C&R, mandating only that a pair dice be incorporated into the design to represent the work they do in relation to the local casinos. C&R sought to create a logo that Sullivan & Sons could easily use across all mediums. C&R focused on creating a timeless design and used 2-color process for optimal versatility. In the end, they chose one that has worked well in bringing their brand to life and creating continuity across their marketing efforts.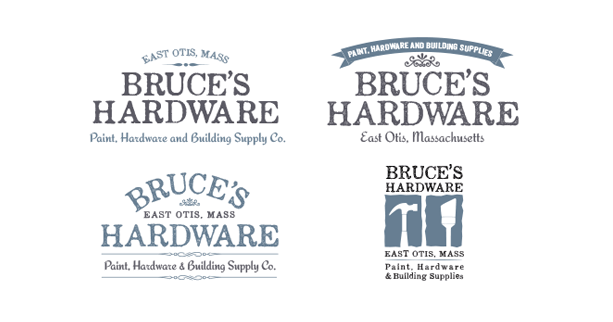 Bruces Hardware Store
LOGO DESIGN
To establish East Otis, MA as the home of a new hardware store with an "old" look.  Several options were presented based on client direction & criteria given.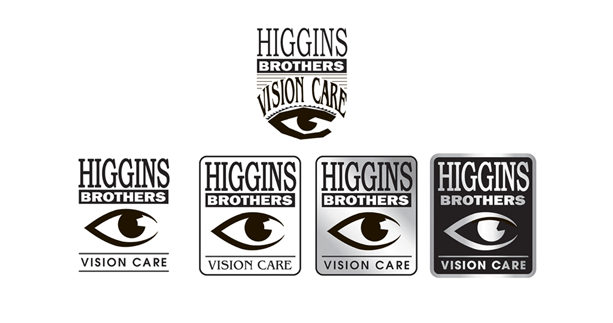 Higgins Vision Care
LOGO DESIGN
Design of the new look for Higgins Brothers Vision Care.  C&R's approach was to keep with the design elements the customer liked and expand upon those to offer a refreshed & clean look.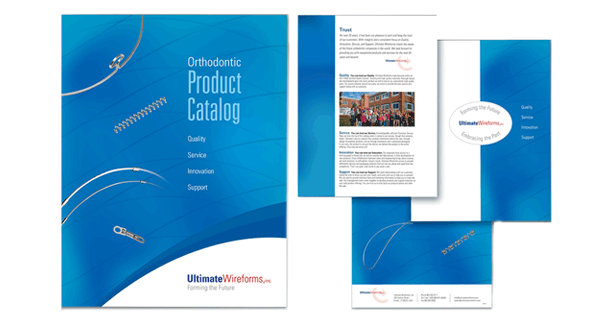 Ultimate Companies – Catalog
PROBLEM: Ultimate requested that C&R refresh the design of their existing product catalog and handle production. SOLUTION: C&R's approach was to take the design of Ultimate's catalog to the next level, and as added value, provide proofreading services to make sure the copy was pristine to help the client exude the utmost professional image.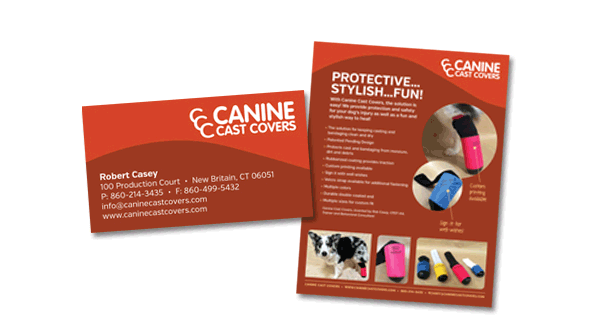 Canine Cast Covers – trade show banner, flyer and business card
To introduce the new Canine Cast Cover product to a vary specific market, C&R developed a consistent look for the banner, flyer and business card at the trade show.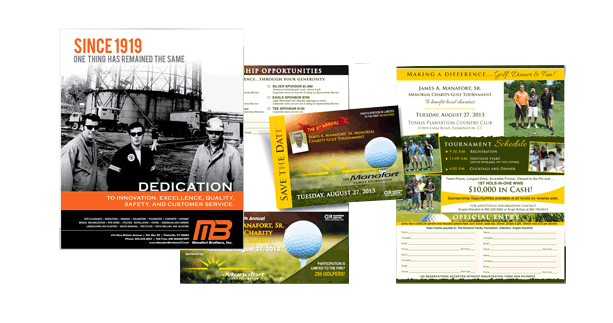 Manafort Brothers
Manafort Brothers worked with C&R to design some marketing which has impact and concise messages with clean and simple design calling upon personal emotions.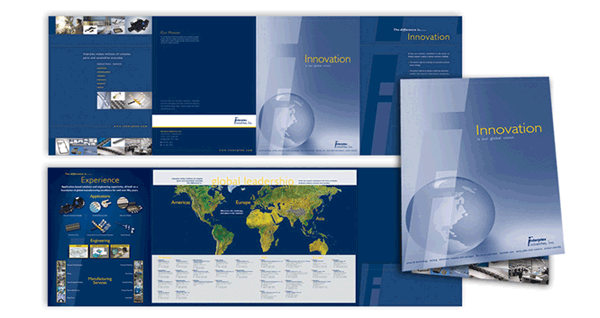 Interplex Industries, Inc. – Corporate Folder/Brochure
Interplex asked C&R to refresh the design and re-engineer the files for an existing corporate box-pocket folder to enhance aesthetics, durability, and efficiency. PROBLEM: The corporate folder is shipped to Interplex facilities all over the world, and because of the previous box-pocket format, it was continually crushed during transport. Also, low quality overseas resulted in poor coloration and scuffing. SOLUTION: To tackle these challenges, C&R changed the format to a flat folder, refreshed the design, and handled production in-house. RESULT: a vibrant, durable piece for Interplex that arrives at its global destinations in the same high-quality condition it leaves in.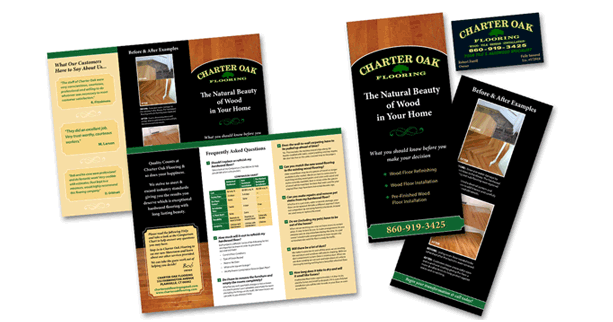 Charter Oak Flooring – Promotional Brochure
PROBLEM: Charter Oak originally requested a promotional brochure and "frequently asked questions" one-pager for distribution to Charter Oak customers. SOLUTION: After learning more about Charter Oak's objectives, C&R recommended combining these two requests into one piece. RESULT: This approach offered the client a more cost-effective solution and resulted in a very and informative brochure for their business.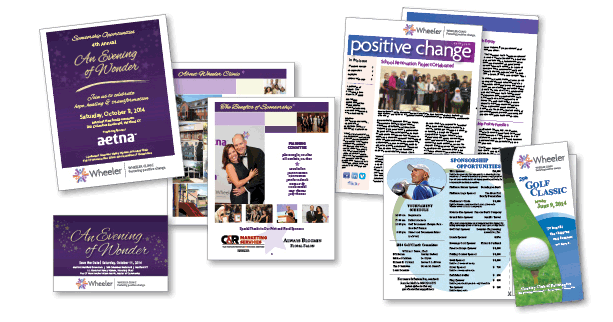 Wheeler
We are glad to work all of the great people associated with Wheeler Clinic, Wheeler EAP and other related organizations.  C&R always pushes to offer value added services that help Wheeler's staff focus on their jobs when required on design tips, etc.